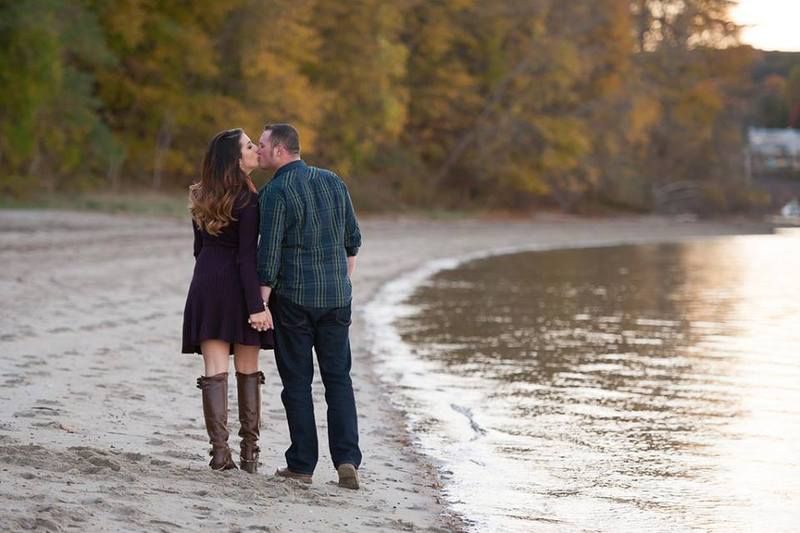 So now for my obligatory New Year's resolution post that I should have written four days ago.
2017 is our year. Our two year engagement is flying by and now that we rang in the New Year, wedding planning will completely consume our life. It's hard to make a resolution going into the year of your wedding without it being all about the big day. While this year will be a life changing, exciting and special time in our lives, I anticipate it to be quite stressful. Deadlines are approaching quicker than I would like and our wedding fund isn't where I'd like it to be. So cheers to the New Year and hopefully these wedding resolutions will help us not lose our minds.
1. Write everything down
I've yet to buy a 2017 pocket calendar but it's on my mental list for the week. I've always liked the idea of having a calendar to add to the growing shit in my big purse, but I want to actually use it this year. It's tough to remember what deposit is due when so I need to actually follow through with something I set out to do and write down all of my future appointments with vendors and deadlines. Plus, all the fancy bloggers have cute calendars so that means I have to get one, too.
2. Take it one day at a time
When you think about the big picture during wedding planning, it can lead to an anxiety attack in my opinion. I think about how much we have to pay a month or so before our wedding and it puts a lump in my throat. My 95-year-old grandmother said to me, "Take it one day at a time, Anita. Everything will work itself out." So instead of thinking about the total number we will owe, our resolution is to focus on the next deposit due and once that is paid, worry about the next. I want to enjoy this wedding planning process and to do so, I'm going to listen to my Grandma Soprano.
3. Focus on the wedding binder
I started a wedding binder shortly after our engagement. I would encourage all brides to make one because it is a hard copy of all the ideas you have. Although it is helping me plan, I've found I have fell off the wagon and haven't done much with it recently. Now that we are in our wedding year, it's time to add all of our contracts, vendor contacts and pictures to the binder to help us organize our thoughts for each detail of the wedding.
4. Be budget-minded
There are so many cute ideas for weddings, especially if you have a Pinterest account. Sure, cute chair covers will make the venue space that much better, but is it worth the $1,000 when the chairs are fine to begin with? Boy, do I love a good party favor, but will all my guests really want another chachkie to add to their pile at home? The budget you have (hopefully already) set should be in your mind at all times because it is so easy to go over overboard. Track your spending, save receipts, and keep your eye on the bottom line.
5. Make sacrifices
I have officially cancelled cable today. At least until after the wedding. For anyone who can't go a day without their reality television shows, this is big. Jake and I bought an Amazon Fire Stick which helps make up for lost channels. Saving the $80/month will help us in the long run. It's tough making sacrifices because I know what you're thinking. "You work hard, (insert your name here). You deserve a fancy dinner with your future husband to reward you both for busting your ass, working six days a week." But by making necessary sacrifices that will help budget a wedding— one of the biggest expenses a couple will pay in their lifetime— it will ease the burden and in return, allow you to enjoy being engaged. Which leads me to my next resolution...

6. Enjoy your engagement
A couples' engagement isn't just about focusing on wedding plans. It's about basking in the excitement the future bride and groom will have preparing for a new life together. Yes, it is stressful making sure you don't break budget but remember to step back and enjoy this time you have together, while family and friends surround you with meaningful thoughts and positive vibes that will be sent your way.
I recently booked our honeymoon which has taken my attention off wedding planning for the time being. It's pretty cold here in Rhode Island so I am loving day dreaming about sitting on a beach in Antigua for eight days in October. But once I snap back to reality, hopefully these resolutions will come to fruition and help me...because I can use all the help I can get planning a 200 person wedding.

Cheers to the New Year and enjoy wedding planning for my fellow engaged couples. Let's hope I don't lose my sanity by 2018.