If you could eat every meal of the day in your home state, where would you go? In Rhode Island, there is an abundance of amazing food. From the many farms to the seafood (Rhode Island isn't called the Ocean State for nothing) there are plenty of great choices to dine. Considering I'm on the infinite wedding diet for the next 10 months, I want to talk about my choices for where I would go if I had to eat out for every meal of the day. This was more difficult than I anticipated to have to pick these places because I enjoy so many. But I based my choices on what I've been craving most recently since Jake and I haven't gone out much since we need to save as much money as we can for the wedding.
Diet and money aside, here is what I picked.
Breakfast: Nick's on Broadway, Providence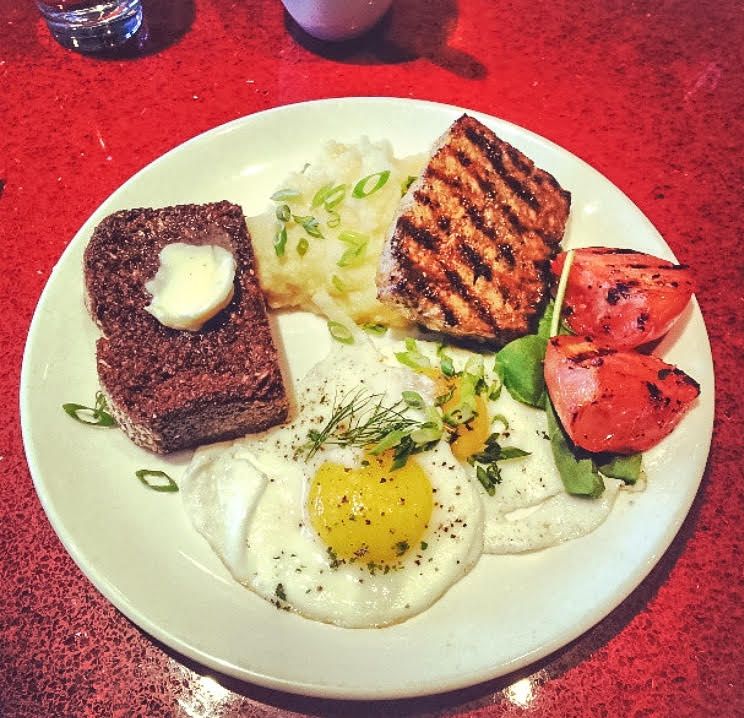 It's no surprise that a Baffoni would choose
Nick's on Broadway
for their top pick for breakfast/brunch. The contemporary American restaurant specializes in seasonal and local food, including all of their poultry and eggs coming from my family's farm,
Baffoni's Poultry Farm
. Each plate that chef and owner Derek Wagner puts up is carefully crafted and beautifully plated and I've never disliked anything I ordered there. He opened this Providence hot spot in 2002 and quickly became a staple in the breakfast food scene. They also do lunch and dinner and it never disappoints.
My favorite dish I've had there was their take on bangers and mash that they usually run on St. Patrick's Day. Obviously, Jake being Irish and all, we love to go each year and get this brunch special. Their bar drinks are also on point. Their bloody mary's are just as I like— spicy. I also tend to judge restaurants by the olives they use in their bloodies and martini's and Nick's uses the real deal. If you are looking for a great place for breakfast and brunch, I would go to Nick's and get there early because the small restaurant on Providence's West End fills up quickly.
Did I mention Jake and I are lucky enough to have Nick's on Broadway cater our wedding? #blessed
Snack: PVD Donuts, Providence
PVD Donuts
is the first specialty donut shop in Providence. It blew up so quickly and there is now a wait just to get in the door. Located near Wickenden Street, this donut shop is sinfully good. I'm not embarrassed to say I waited 40 minutes by myself to get some amazing donuts and Nitro Coffee on a Saturday morning. They have so many varieties that typically change daily. My personal fav, the Dave's coffee milk donut. I'm a sucker for anything coffee flavored. Other fan favorites include the cereal milk donut topped with fruity pebbles, maple monkey bread and this month's new flavor, chai orange pistachio. I prefer the brioche donuts over the old fashioned. They are more fluffy and less dense. Now, other specialty donut shops are taking the PVD Donut lead and coming to Providence. They might rival the Rhody classic,
Allies Donuts
(who is making our donut tower wedding cake) which I would still encourage if you're craving the classics. Can you tell that I like donuts? For something different a little bit more money, try PVD Donuts.
Lunch: Mission, Newport
My ideal lunch brings me to Newport. Hands down, this spot has the best burger in Rhode Island. Mission is tucked away on a side street, away from the tourist traps in the city. They makes each burger with care. They grind all burgers and hot dogs in house and use slab bacon, pea greens, raw red onion and aged cheddar cheese. The hot dog pictured below is made with kraut-chi, a take on a kimchi sauerkraut by
Lost Art Cultured Foods
, a local company that makes fermented veggies and also a good friend of ours. Over the weekend, I had my work holiday party and it was also a big snow storm, but we didn't let the snow stop us. We trekked through the snow and wind just to get our hands on their burger, dog and fries. If you haven't had a Mission burger, you haven't lived.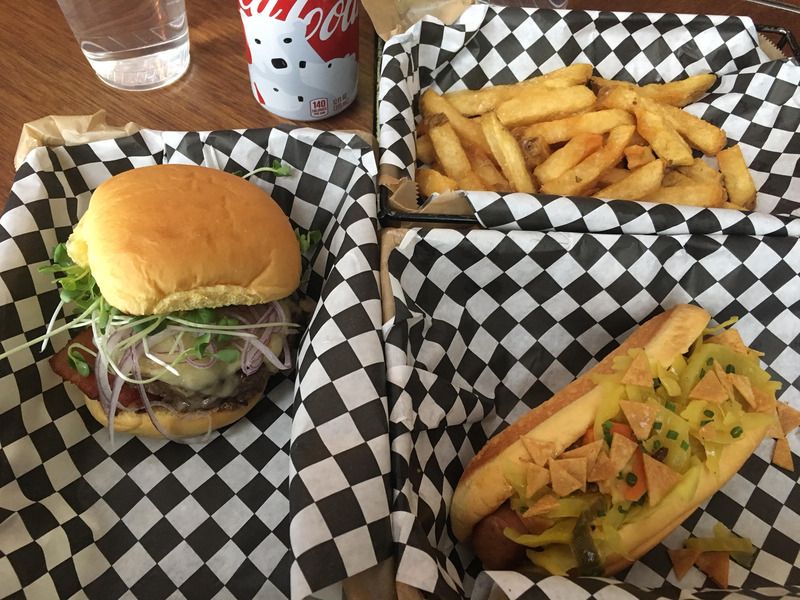 Snack: Matunuck Oyster Bar, South Kingstown
You can't have a day of eating in Rhode Island without stopping at the
Matunuck Oyster Bar
. They grow, harvest and serve some of the best seafood in the state, especially their oysters. Considering they are harvested in the waters directly next to the restaurant, you can't get a fresher oyster. If you get there for a late lunch and snag a table on the outside patio, there is no better way to spend the day with a dozen of fresh oysters and shrimp cocktail, which are THE BEST. The shrimp are plump and juicy and with a ton of cocktail sauce, you have the perfect snack. The accouterments that come along with items from the raw bar are perfectly paired. They also have a great food menu that will satisfy even non-seafood eaters. As far as I'm concerned, if you are a Rhode Islander, you can't dislike seafood. It runs in our veins, dammit.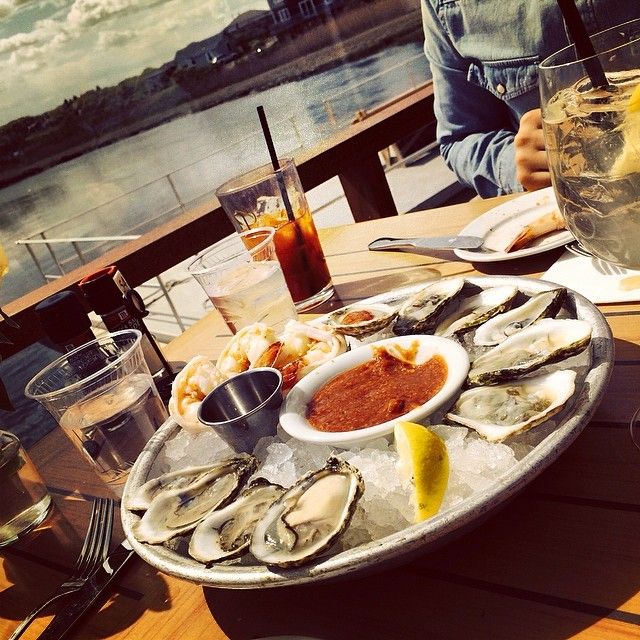 Dinner: Bacaro, Providence
Choosing a restaurant for dinner out of all the great choices in Rhode Island was very hard. There are the usual suspects that I thought of like
Persimmon
,
North
,
Gracie's
and
Alforno
(which is where I had a terrible server experience and why I didn't pick Alforno as my top choice).
Bacaro
is an upscale Italian restaurant that offers farm to table, seasonal and local ingredients. Their show stopper in my opinion are their tasting boards— a variety of cured meats and cheese from all over Italy. Italian food is everywhere in Rhode Island considering we are a hub of Italian immigrants, including my grandmother, so it's natural I chose a restaurant that shows off my heritage extremely well. My best friend worked here so when I went for the first time, I got great recommendations for what to try. I had a tasting board, pizza and amazing filet mignon that I can't stop thinking about. For a nice, fancy dinner, Bacaro is my top pick, for sure.

Photo from Bacaro's website
Dessert: Pastiche, Providence
Dessert keeps me in the capital city for some of my favorite sweets I could never go without. If you ask any Rhode Islander where to go for dessert, there is a good probability Pastiche will be their answer. It is on Federal Hill, our take on a "Little Italy" and they have set the bar for desserts really high. Anytime Jake and I get dinner in the city, it's without question where we will go for a late night cup of coffee and slice of cake, or tart. Their fruit tart is UNREAL. They use perfectly ripe fruit with an irresistible custard and flaky, buttery crust. Whenever there is a birthday or celebration in my family, we get the cake from Pastiche. Everything they make will satisfy any sweet tooth. Their tiramisu cake is to die for, chocolate mouse cake, coconut cake, their holiday cranberry raspberry tart...need I say more? For anyone who visits lil' Rhody, you must make a pit stop at Pastiche.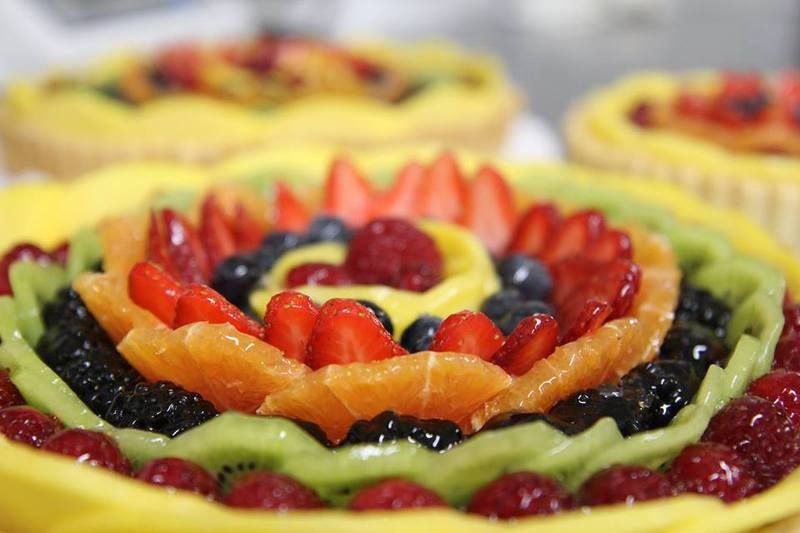 Photo from Pastiche's website
Where do you like to eat in Rhode Island or your home state for that matter?
P.S: I couldn't help myself with the title of this post. See what I did there? But for everyone else's purposes, use the hashtag #myfoodroadmap to share your ideal picks!