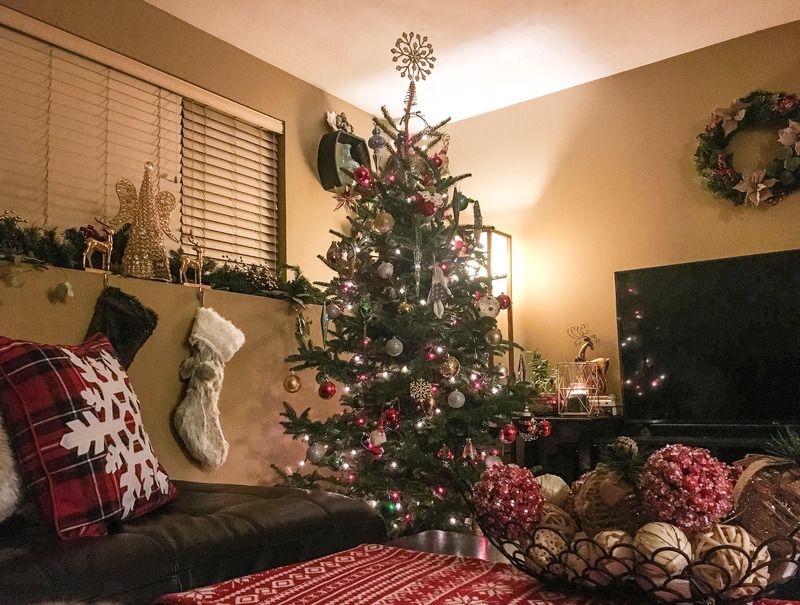 Which direction do you go for your Christmas decor?
I'm a traditionalist when it comes to the holidays. The many colors. The variety. The random ornaments that you question how it gets on your tree every year. The new glitzy, modern decorations aren't for me. So why do I find myself comparing my Christmas decor to others?
I've followed a ridiculous amount of interior decor Instagram accounts which has me questioning my traditional Christmas decor but when I'm home in my cozy robe with a mug filled with hot chocolate gazing at my illuminated tree, I know that the traditional route is right for me. The only stipulation is the tree lights. Jake is all about the clear lights but I personally love the multi-colored. But since I choose 99.9% of the decor, I'll let Jake have his stupid lights.
I'll always be on #TeamRealChristmasTree. There's something about the pine scent coming from a real Fraser Fir that really puts me in the holiday spirit. It's the
pièce de résistance of your Christmas decor, might as well have the real thing, am I right? And what better way to decorate the tree with ornaments from all parts of your life. Like the cotton ball snowman that you made in 1st grade, or the picture frame ornament with the worst picture of yourself from middle school, or even the ornament of what looks like a teen boy proposing to the closest thing I could buy that looks like me to represent our proposal. As cheesy as they look, it's my favorite part of holiday decor. It also allows me to continue to get ornaments from milestones in my life that will remind me each time I whip out the boxes upon boxes of them come December 1st. I've also started a new tradition with Jake to get each other an unique ornament each year because I love them that much.
My friends and sister are taking the more modern approach. I'm talking about the silver and gold look, with no multi-colored anything in site. Or the reindeer and nutcrackers that fit perfectly on the fireplace overlooking the matching tree. Although it's beautiful, it's just not for me. I've thought about changing my holiday style... ridding of all mix matched decor in my apartment. I don't have the heart to do that. I don't have the heart to throw out age old decorations that I have from when my dad was a baby. Instead, I've streamlined my decorations. (I've said I'm going to streamline my decor so much, I can feel Jake's eye roll while he reads this.)
I've thrown out some of the cheap decorations I bought when I first got my apartment, not knowing the direction I wanted to go. We have lived in a different apartment for the last three Christmas's so each year the decor comes out differently. Now another Christmas is upon us and I think I've finally found my niche. I'm headed to more of a gold and red color direction with accents of multi colors. At last, a holiday-decorated apartment I can be proud of.
I'm so pathetic that the site of my new faux fur stocking brings me so much joy, I sound like a toddler meeting Santa for the first time at a mall for pictures. Jake makes fun of me each time I make him admire it. I think it's the cutest thing everrrrr. And it feels like my stocking. Not just a stocking I found at Christmas Tree Shoppe because I needed to hang one in my first apartment. I've been waiting for Jake's faux fur stocking is in the mail and now that it's here, I can finally publish this post. I've had this post practically written for a week, but I was waiting to post it so I can add a picture of my finished product, including our two new stockings.
As for next year, I'm planning on tinsel, garland and lights...more lights. I figure I'll take advantage of the post-holiday sales at Target to prepare me for our first Christmas as a married couple.
Traditional or modern Christmas decorations, there isn't a right or wrong way to do it. As long as it represents you and not a replica of a holiday display you saw in the Christmas edition of Good Housekeeping. It may take years, like me, to find what works for you but once you do, it will make wherever you call home a more cozy, warm and festive representation of YOU.
Happy decorating!