Of everything an engaged couple needs to do while planning a wedding, the registry should be the easiest. You get to make an inventory of what you would like to have to start your new life together. I loved making our wedding registry. Who doesn't want to pick out a bunch of expensive household necessities you've needed for a while but couldn't afford? Who doesn't want to pick out corny Mr. & Mrs. things that are just too cute to resist? But I'm taking a bit of a different approach.
We are registered at
Macy's
, however it is a smaller registry. Instead, I signed us up for
Honeyfund.com
, a "honeymoon fund" that wedding guests can donate to instead of purchasing something on our registry. Either way, Jake and I are grateful for any gifts we get.
During the process of registering, a bride goes through 5 stages which I personally experienced.
STAGE 1. Excitement
For the first time, you can make a list of things that you need but never got around to purchasing and you will most likely get them. It's like a kid getting everything they asked for from Santa. Who wouldn't be excited? It's a lot of pressure to get things that are "required." In fact, Macy's offers a "recommended registry" that includes traditional things that a newly married couple must have. Do I really need this stuff?
This brings me to the next stage...
STAGE 2: Confusion
I'm the type of person that gets everyone's input on things when I am making a big decision, or decisions in this case. After speaking with my co-worker, I inadvertently walked into the world of fine china. I had no idea about china and what name brands there are. Apparently it was a must have on registry lists for years but millennials aren't really following this tradition, which poses the question: Do I or do I not register for china, which is typically pretty expensive. I caved and registered for a set of 8, but I find myself everyday adding and removing things from our registry so who the hell knows if it will last on there. There is SO much to choose from so where do you start? I got a headache choosing the items, real quick.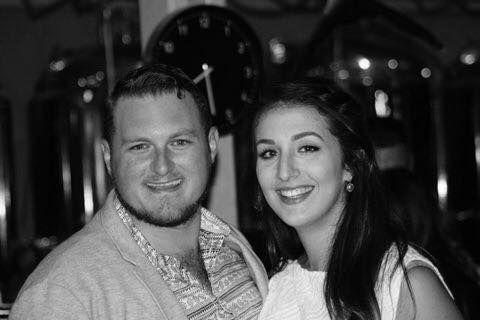 Everything. I want everything. Wedding registries put the bride and groom (mostly the bride because they typically put together the registry) in a sticky spot because here you are given the opportunity to make a list of everything you want, usually household items, but you don't want to come off as greedy. Where do you draw the line? A television? A mattress? An overpriced wall clock? If marriage norms are telling couples to pick out everything you and your future husband will need, how do you stop? I think naturally, it is easy to get borderline greedy in this particular case.
STAGE 4: Guilt
Adding a $500 vacuum on our registry makes me feel guilty. Is someone really going to buy me that? What about a $250 down comforter? It isn't my fault though. These things are really expensive which is the whole reason wedding registries came about, right? I know Jake and I wouldn't be buying a Dyson Vacuum anytime soon because we don't have that kind of $$$ laying around. To make up for my guilt and to balance the list, I added some inexpensive items, like a cold brew coffee pitcher for $20. Although putting a wish list together is fun and gives you the chance to daydream about how better your life will be with the household essentials, it is after all a lot to ask. But hey, it's a wish list for a reason. Not everything will be purchased on the list but having those items there will give the chance for the 200-plus guests to kindly buy us something to celebrate our marriage so it doesn't hurt to have them there.
STAGE 5: Gratitude
Any gift we will receive, Jake and I will be very grateful for, regardless if I don't get the Dyson Vacuum which was the first item to go on my list. Either way, whatever we receive will go towards the purchase of our new home (hopefully within the next year or so) and all of the necessities we need to take are of it. We have very caring and generous people in our life and Jake and I are thankful for you all!
My wedding is less than a year away and we just had our one year kick off party which was a blast. Since we got engaged a year and a half ago, we figured a kick off party would work better for us. And of course, we got our first round of Mr. & Mrs. things, like stemless wine glasses, and I'm loving every second of it. It's one less thing I can put on our registry.
This year will go by very quickly and am excited to see all of our hard work planning this thing come together on October 8th.
#Anderoni2017