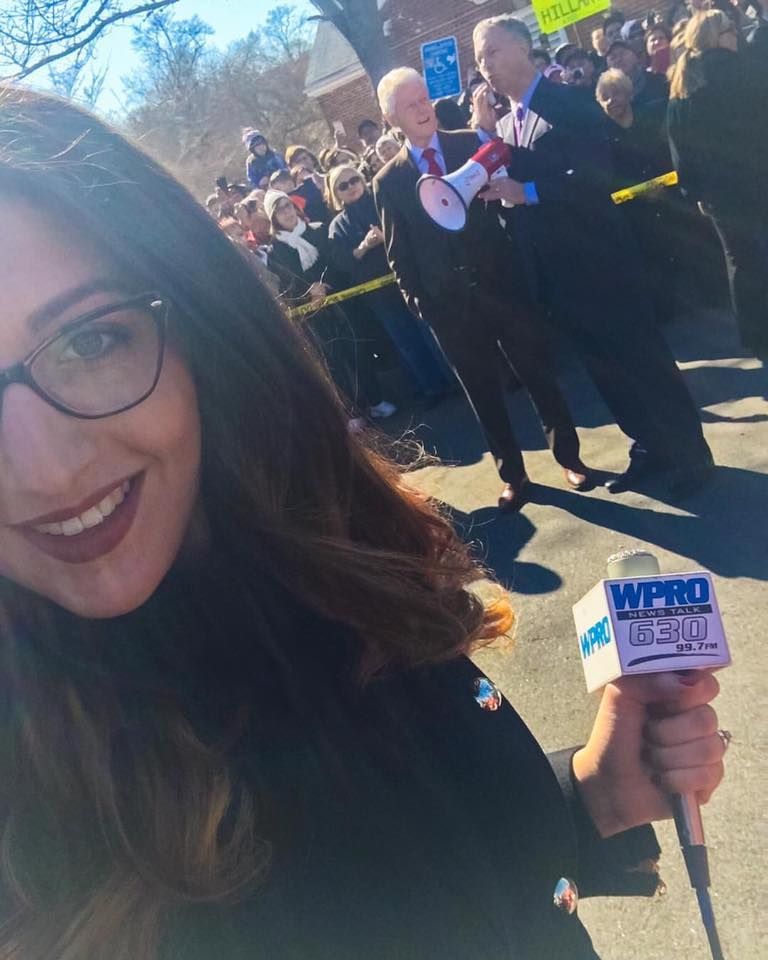 Maybe it's because I graduated with a print journalism degree, but I've experienced many things in my days as a broadcast reporter that I would have never anticipated I would be faced with. Granted, if I landed a job at a reputable newspaper, I suppose I'd be put in similar situations. I'm lucky enough to have found what I'm good at. I'm inquisitive, curious, a wee bit nosy and compelled to share with the public what is going on in the world around them.
I've read somewhere that moments in your past guide you to your future and this couldn't be more true in my case. When I was in 6th grade, I decided to anchor the "Morning Announcements" at my middle school, basically just a newscast that was first thing in the morning while all the students were in homeroom. I would say the latest news, any after school meetings and sometimes what was on the cafeteria's lunch menu. U2's "Beautiful Day" was dubbed over a montage of video clips of a regular day at N.A Ferri Middle School. Little did I know those days I anchored the morning announcements will be the start of my path into journalism. Who knows, maybe I'll anchor the news for real some day.
Back to the point of this post. I've learned a lot in the journalism program at the University of Rhode Island but here are some things I wish I had (or just forgot about)
1. You may meet the former President of the United States
I learned that you will come in contact with many people but I would have never thought I would be shaking the hand of Bill Clinton. He has come to the Rhode Island area so frequently while his wife is running for president, that it didn't phase me that he once was the POTUS. I've even been in the same room as Hillary and it is pretty bad ass being with people so powerful. If you work your way up to a bigger media outlet, you may even meet the current POTUS but for now, being new in the world of reporting in the smallest state in the country, I'm more than happy meeting anyone who ran this country.
2. You will get criticized by so many people...just because.
It is expected to get critics by people who read or listen my stories because not everyone is going to like the facts. I've gotten hateful emails saying how terrible of a reporter I am, calls threatening to sue me because they were mad I put public information in my piece. I've gotten calls (now that I switched from print to broadcast reporting) by some guy who told me he doesn't like how I say my last name. He continued with saying he and his 5-year-old daughter make fun of my name every time I say it. A lot of people have no time on their hands and want to criticize reporters' every move, why? I'll never know or understand. I was once told by my editor, "your feathers will get ruffled and if they don't, then you are not doing your job."
3. You will have to grow a pair
If you want to disappear in the crowd and have no attention drawn to you, then news reporting isn't the job for you. I've had to interrupt many speeches by moving my microphone, walk into corporate meetings while they have already started, asked very difficult questions to a very important person, and walk up to the podium while someone is speaking to change my batteries. Throw that awkwardness out of the window. I have felt so uncomfortable doing these many reporter tasks but it needs to be done. You have to have some big cajones to do some of these everyday things and it's part of the job, so get used to it.
4. Be over prepared
Extra batteries, umbrella, raincoat, blankets, mints, extra hair elastics, a phone charger and a second pair of shoes...the more you have the better. You will never know where a workday will take you and being under-prepared is the worst feeling in the world as a reporter. It happens to frequently but learn from my mistakes, always be prepared for any possible situation.
5. Twitter is your best friend
There was very little I was taught about the wonders of Twitter while I was in college because times have changed since the pen and pad days. Most of my professors briefly touched upon social media in the industry but not many of them use it as a main source of news or breaking it. It is a rather new tool used by journalists to break news and gather information from a variety of sources. Nowadays, that is how a media outlet will break news and determine who was the first to do so, which is something every reporter wants to do. It's comical to see all reporters with their heads in their phones while a news conference is going on because live tweeting is what you do now then the full story comes later. It is a very useful tool so get yourself a work Twitter like I have (
found here and please follow me!
) and establish yourself in your state's press corp. Don't get me started on being verified. Believe it or not, that little blue check-mark next to your name means you are the real deal and I am dying to get it. Come on Twitter, verify me already!
6. The amount of satisfaction there is after reporting news, especially of high importance
Any news story will affect someone in some way. The feeling I get when spreading word to the public on a story, especially a big one, is something I have come to love. Knowing I am the source of information to so many is what fuels my fire. Whether it be a recall on food products, sharing an amber alert for a missing child, telling the story of a 100 year-old in time for their birthday, any of these things will help someone in some way and I am more than happy to do so. If it weren't for news reporters, the hard questions wouldn't get asked and answers wouldn't be given for those who, in turn, can make their own judgement. I like to think that journalism is essential to democracy.
Do what you love and love what you do. That's my motto for a happy life and successful career.