Now that I'm back from a two month hiatus, lets talk weddings because what bride-to-be doesn't want to talk about weddings.
I'm at that age where many of my high school pals are getting engaged so why not write a blog post to maybe help them out in the crazy, overwhelming process.
Jake and I are doing a two year engagement. Well, technically it's over two years but for this post's sake, lets just round down. There are many strong opinions about not doing the traditional one year timeline. Personally, I cringe at the thought of planning a 200-plus person wedding in 12 months. I could never. Two years was ideal and I don't think it's ridiculously long, but that's just me.
Anita, why would you ever take that long of engagement? Get it over with already.
We have to way THAT long for your wedding?
Your sister will get engaged and married before you if you don't do it quicker.
I've gotten it all but you have to block it out. It is what's best for Jake and I and that's all that matters, so screw. After all, the long engagement allows me to build a life while preparing for marriage. Which gets me into the point of this post...
The pros:
* You're able to build a life while preparing for marriage. I got a new job shortly after the proposal and the best part of having a two year engagement, I don't have to put my career aside, which is something that is very important to me.
*It gives you time to change your mind a million times before the big day. The more you change your mind, the more sure you will be with the final outcome. For example, I changed my mind on my centerpieces three times already and my latest focus, my honeymoon which I change every damn day. There is a ton of pressure to plan the perfect honeymoon, full of honeymoon-ish things like champagne, rose petals, and towels folded into a swan on the bed upon arrival. SO. MANY. DECISIONS. On top of it, the many weddings that I've been following did a two week honeymoon and I can barely afford a seven day. I want to throw a temper tantrum... but, I want a two week honeymoon. Shit isn't cheap. Anyone with all-inclusive honeymoon suggests in a tropical location, holla atchya girl.
*The most obvious pro— it gives you time to save money. Maybe with the money I'm about to save I can afford a $5,000 honeymoon. Probably not. But at least the money saved allows me to splurge on some items like a videographer. You can also save money by booking vendors early and it gives you more time to pay off the hefty price tag. You're going to want all the help you can get.
*DIY overload. With all of the time I have until the wedding, I can Pinterest my heart out and have ample time to make stuff, like cute escort cards and party favors for a two-for-one package. My current idea, using these mini succulents for them. And I save money doing a two-for-one.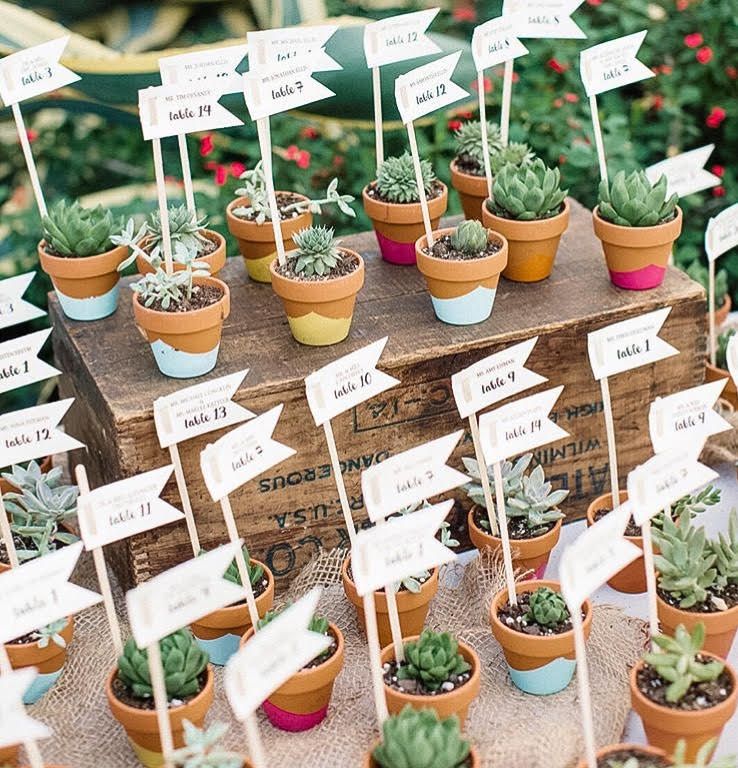 *You have time to enjoy being engaged. Don't let anyone make you feel selfish for having a long engagement, this is you and your fiance's time to enjoy the wedding process. It can get super stressful, but with a longer timeline, it lessens the burden financially and emotionally. And yes, a long engagement lets you drag it out because it goes by in the blink of an eye so it's more time to savor the moment and build up excitement for the big day. Plus, who doesn't want more time to talk about their wedding?! This girl right here.
The cons:

*Envying the couples who get married in under six months. Believe or not, it's a thing— pulling off a wedding in a few months and under $3,000. Their logic, "to get it over with." Personally, I like the anticipation of an engagement but it's just not for some brides. But once contracts are signed and deposits are getting sent out depleting your wedding fund, pulling off a cheap and quick wedding sounds really tempting.

*The guest list can constantly change and in some cases, increase. I already have a 200-plus guest list, I can't afford any more! But while making friends, meeting new co-workers and family members' new boyfriend/girlfriend, you feel obligated to invite them. My advice: set boundaries. Mine, for example, is if you are with the same person for over a year than you can get a plus one. Anyone who has planned a wedding can understand this.

*Second guessing every decision you make. I am the WORST at this. I see other brides get a venue that I love, or come up with the cutest ideas for decor, or are spending three times less than you with the same size wedding, but turn those blinders on ladies and trust your judgement. It's about what works for YOU, not what others are doing. Now if only I can take my own advice.

*You start to get annoying from all of the wedding talk. I'm already getting it....Anita, are you still talking about your wedding that is light-years away? Dammit, yes I am! Just because I took a long engagement doesn't mean I shouldn't share my wedding plans with anyone who is willing to listen. The best thing I've realized— find another bride-to-be because they will be more than willing to chat about wedding stuff.

*Following a timeline. It's difficult to start wedding planning for a two year engagement because you never know when the right time is to start. When do you send out save-the-dates? Is it too early start my wedding registry? How come flight fares won't be released sooner than a year before the desired date? You can Google long engagement timelines but I didn't find them super helpful. I set a goal to have all of the big items checked off my list before the one year mark and I'm pretty much on target. Another issue, the engagement party. It's been a year since we got engaged and it's way too late for an engagement party so what do I do? Have a "one year kickoff party." Problem solved.
A pro & con: time to get in shape for the wedding
This can get tricky because you can take your time to get in shape and eat healthy and once you start, you find yourself reaching for the left over chocolate cake because I have plenty of time to shed the weight. It can be a double edged sword but stay focused and again, set a timeline. After the New Year, I'll buckle-down and keep my eye on the prize...and scale.

That's enough wedding talk for now, but of course there will be plenty of wedding stuff to talk about because I still have a year and a half to write about it. Are you guys on board? GREAT!