I almost dodged a bullet this year. With less than 24 hours until my birthday, I got hit. Of course I did.

Unfortunately, I'm still working at the radio station on my birthday this year but there was a 90 percent chance that I would have had to go at the state house until the wee-hours in the morning, possibly 3am like in years past, for the budget to be heard and voted in the full House. This probably means nothing to you nor do you care but basically I don't have to cover a super long hearing, instead it got pushed back to Wednesday. For once, politicians talking a long time to do something worked in my favor. But I got a glorious text on this fine Monday morning saying I have an event at 6pm on my birthday that I must cover and in that instant, my birthday bubble burst.

I got this lump in my throat, like every time I have to work on my birthday, and I want to moan, groan and whine my way to having my birthday off but none of that will help. I guess my birthday dinner will have to wait until Thursday. UGHHHHH


There comes a point where you have to grow up because stopping life to celebrate the day you were gifted to the world has to stop at some point. Is 26 that age?
My twin and I turn 26 on June 14 and it's going to be a big, big year for us. Wanna know why? We are off our parents health insurance. This is a day I've been dreading and I am in the grueling process of applying for benefits which I don't know how I can possibly afford. I'm an epileptic so medication is super expensive but I'll make it work, I have too. I have no choice. So I'm hoping working on my birthday Tuesday will distract me from the coming expense that will deplete my paycheck that is small to begin with.
Your birthday is the one day you feel extra special because it's a day all about you— in my case, about my sister and I. So when we spend the day separately, I have an amplified desire for everyone I make eye contact with to jump for joy and start singing the happy birthday song, because everyone on the planet knows its my birthday, right? That's what I'd like to think on my day.
I interact with more people as a news reporter than other jobs. Tuesday's are usually busy days at the state house so there was a good possibility I would have had to be there, mingling with people who have no clue it's my birthday. Is it totally bat shit crazy if I say, "Hey Governor! Governor! How are you? It's my birthday, FYI."
Yes Anita, that is insane.
You shouldn't feel selfish for wanting everyone to know it's your birthday. I sure don't. Maybe it's because I share everything with my twin that I feel the need to wear a birthday sash to work just to remind everyone that June 14 isn't just Flag Day or the day after the Olsen twins' birthday. So naturally, I was so exited for our separate donut cakes we got on our birthday last year (pictured below). Side note: look how little Lou Dog was! Now he is a ham, tipping the scale at 100 pounds.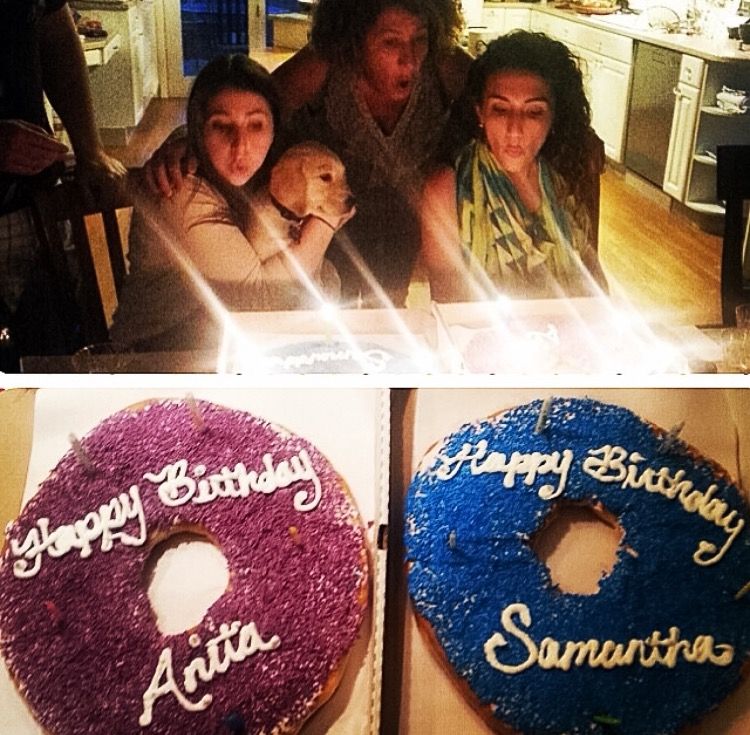 So how do you make the best of working on your birthday?
Keep your Facebook open at your desk to see all your birthday posts because we all know how
social media birthday's work.
Suggest going out for drinks after work because it will feel more special.
Lower your expectations because people are going to continue their workday without caring it's your birthday.
Spread your holiday cheer! Who doesn't like working with someone in a good mood, spreading good vibes to everyone in the office. All you need is one person to realize it's your birthday, probably by Facebook, and say happy birthday, hopefully loud enough for the whole office to hear. The happy birthday's will start rolling in, in no time.
Or, you can write a blog post and ask for all who read this post to share it, or at least the meme, because it will be your generous (and free) birthday gift to me :) kthanks
Goodbye 25, you've treated me well. May my "late 20's" mark new and exciting adventures.