When you think about staying in a hostel, I bet the first thing that comes to mind is
the movie
and the promise you made to yourself to never stay in one. Throw that promise out the window. My recent trip to Amsterdam and Paris taught me a lot about myself and a lot about traveling on a budget. Although I'm broke AF right now, I was able to get the entire trip for way less than what I spent in Italy last July and I think I deserve a pat on the back. It wouldn't have been possible if I didn't stay in hostels.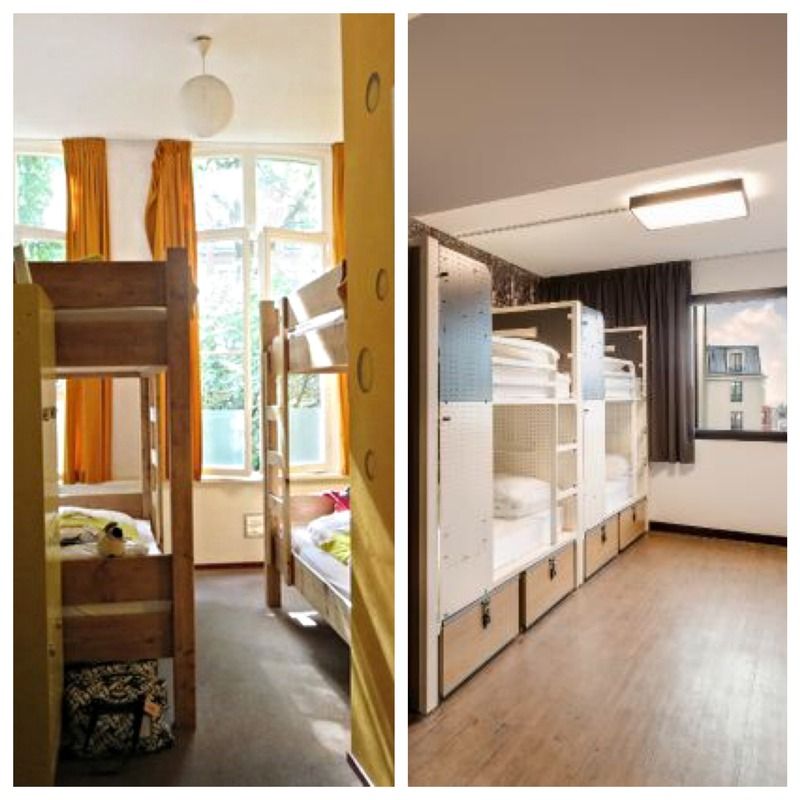 Hostels & rooms I stayed in. Amsterdam (left) Paris (right)
Here is what I learned.
1. Hostels aren't what you'd initially think
Hostels are not as grungy as you might have imagined. I believe it's an up-in-coming industry because I stayed at some swanky hostels, especially in Paris. But first, the hostel I stayed in Amsterdam,
Cocomama
, is a "boutique" hostel that is a converted brothel. Oh, the City of Freedom. It was renovated with themed rooms that had super comfortable mattresses. I traveled with four others, all my family and Jake, so we were able to stay in one room. Yes, it was tight quarters, yes there was tension at times (naturally) but it was totally worth spending $50 bucks a night. Yes, you read that correctly. Only $50 bucks.
There is a sense of community when you stay at hostels because the travelers there all there for the same reason. Why pay a ton for a room you don't plan on spending much time in, am I right? Workers are super friendly, there are nightly events like a tour of the Red Light District we did with a native to Amsterdam and it was way cooler than any boring, follow the leader tour. It was kick ass. We saw lots of naked bodies, learned so much about how prostitution is regulated and showed us the wonders and mystical beauties of the city that we wouldn't have known otherwise.
2. Picking up after yourself is a bigger pain than expected
From the toiletry bag to shoes to even your bobby bins on the sink, proper hostel etiquette is to be neat and tidy because after all, you are staying with complete strangers. Even being quiet is easier said than done. Fidgeting with my lock for my locker sounded, what I thought, like a fog horn that wouldn't stop going off. You learn to master stealth mode. Navigating through the crowded dorm room in the middle of the night to get a glass of tap water after having a few too many drink takes some serious skills. And after a few nights, you are stealthy enough to be the next James Bond.
3. Paranoia? What's that?
I've slept with complete strangers. You'd think that would trigger some paranoia with me but nope, it didn't even phase me. Maybe it's because my older brother and fiance were in the same six bed dorm with me and the eerily similar bed to my childhood bed that made me feel like I was home. At our Paris hostel,
The Generator
, the two other randoms in the room was one guy from Argentina who greeted me with a kiss on the cheek, which I oddly didn't find threatening. The one other traveler was this Japanese girl who was super quiet and didn't understand a lick of English. Asking if she wanted the light on or off turned into a game of charades. There was no way she was shanking me in the middle of the night. Even the people in the common room were super friendly. Shit, there was even a legit bar and mini-club in the basement of our Paris hostel. It was awesome partying with strangers.
Quick story: While the five of us are at the downstairs bar, some random kid approaches us and is on his phone, taps Jake on the shoulder and is like, "are you Shamus' brother?!" What are the effing chances that Jake's younger brother's buddy from high school was at this very same hostel across the world, with Shamus on the phone? It's the Rhode Island curse. We are so damn small that no matter where you are, apparently even around the globe, you will know someone from home. I couldn't make this shit up.
Back to my point. With hostels, you have to have an open mind to others and put that paranoia a side. And if you can't, then hostel life isn't for you. In case you didn't realize, I survived staying in hostels. So will you.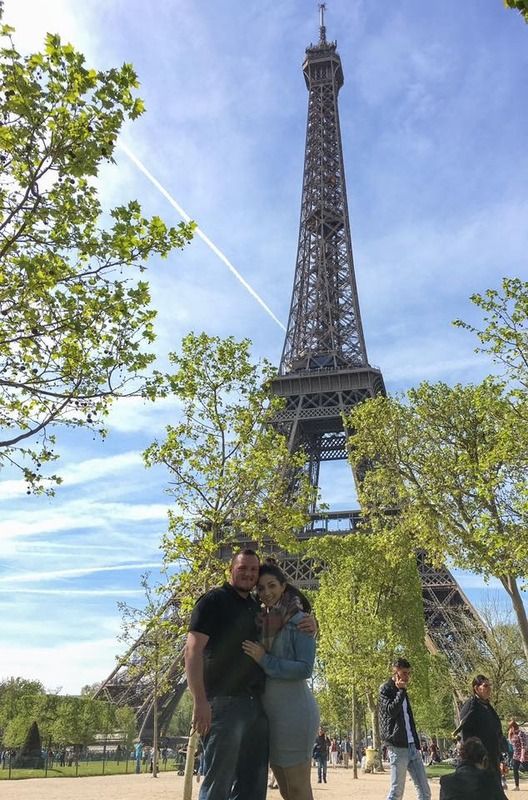 4. Eat EVERYTHING!
This might not pertain to staying at a hostel much, but still, make sure you eat as much food as possible when traveling. Maybe it is my Italian coming out but one of the main reasons I travel is to try the food true to that culture. When I was in France, I ate a hella lot of cheese, and a fair amount in Amsterdam too. When I didn't finish the cheese, I brought it back to my hostel and secretly ate it in my bunk. The good thing about staying in the top bunk, it is like a little cave so no one can see your shameless self, grubbing on cheese and the end of the baguette that you didn't finish earlier. Did I mention the chocolate?!? I couldn't get enough, but it didn't hold as well as the cheese. I still licked the wrapper clean.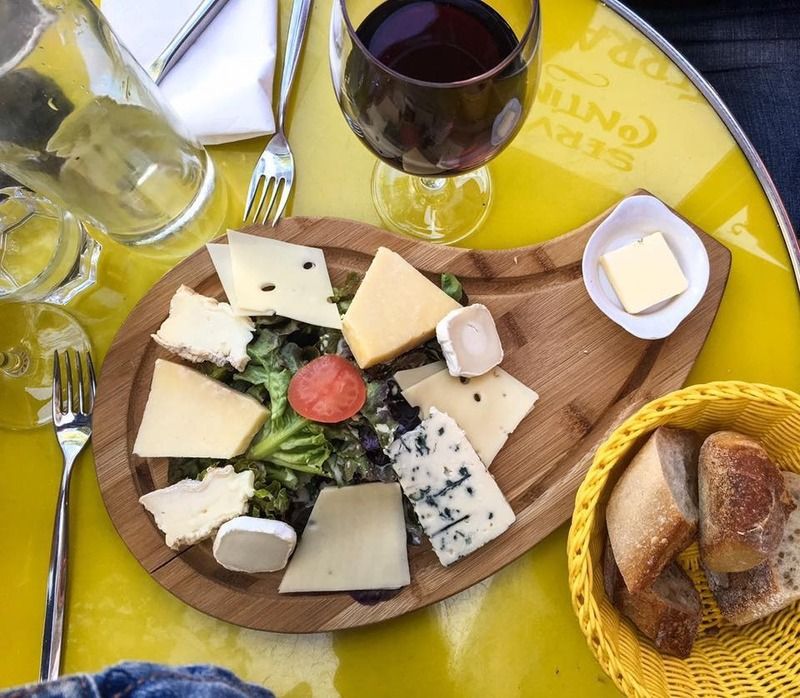 5. Always travel with flip flops
Bringing easy slip-on shoes is a must while staying in hostels. You don't know what you are walking into as far as showers go, so be sure to have something on your feet while getting clean. I've heard some gnarly shower horror stories and I wasn't ready to rewrite that one. I've also learned that I'm not as agile as I used to be. Getting into the top bunk of the bunk beds was not as easy as I remembered. My twin sister and I always slept on one growing up, but I always got the bottom. Boy, does that ladder hurt your feet! This is where I wish I brought my flip flops with me in bed because I'm sure I sounded like a bat out of hell, groaning while trying to get out of bed. And if Jake wasn't there to help me down, I basically just fell out of it and hoped I didn't wake anyone up. Lesson learned— sleep with flip flops in your bunk.
My brother told me that once you stay in a hostel, you will never stay anywhere else. He's right. Before you guys book another hotel while traveling, do some research into hostels. There are big chains, like the Generator, that are just as clean and have as many amenities as fancy hotels, just more relaxed and chill. Who doesn't want that? It's mostly millennials who stay at them so you are bound to meet some cool people and enjoy that country's culture for much less. If there is one thing to take away from wasting your time reading this blog post is to consider staying in hostels. You won't regret it.

Happy travels!