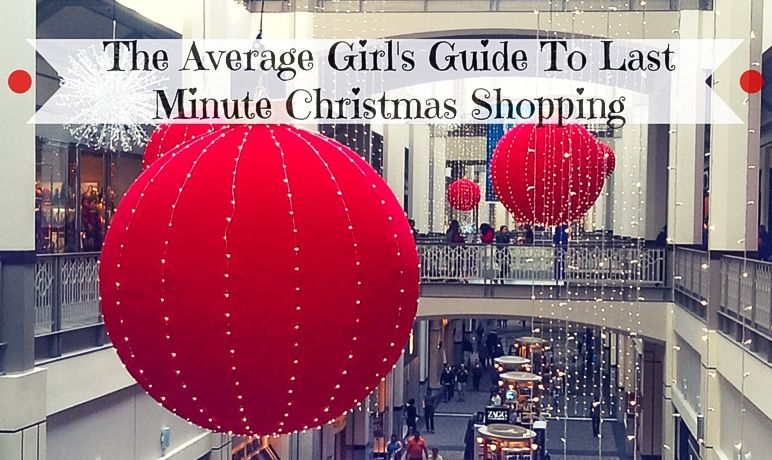 Holy shit. Christmas is in four days.
This happens every year when Christmas is one week away. The holiday pressure is at an all time high and then you realize, you have no shopping done, zero. Last minute Christmas shopping, it's something I and all my fellow procrastinators know well. The struggle is very real so anything I can contribute to help those brace the crowds, long lines and traffic that comes along with shopping less than a week from J.C's birthday, I will gladly do so.
Here is the Average Girl's Guide to Last Minute Christmas Shopping.
1. Patience
If you are foolish enough to go to a mall t-minus six days from Christmas, patience will be your best friend. Take a deep breath when you start to get swallowed by traffic that takes 20 minutes to get off the highway ramp, less than a mile away. Channel good thoughts when you accidentally pull into a hotel parking lot where you get blocked in by valets (like I did when attempted to do my Christmas shopping two days ago). Stay calm while you are sweating inside Newbury Comics, waiting in line to buy a "coffee makes me poop" mug.
F.Y.I. I am the farthest thing from patient, so I would take my above words lightly.

2. Car charger
Because while waiting to get into the death wish of a parking garage, the last thing you want is for your phone to die, especially since you know you will need something to occupy yourself while waiting in line at Newbury Comics.
3. Parking lot etiquette
Perfect. Your phone will be fully charged because you'll be on the hunt for a parking spot for the next half hour. Now, I understand finding a spot in a parking garage is tough, but don't be a douche. If someone has their blinker on, don't sneak up and steal their spot. Your just asking for some hot tempered Italian Johnstonian to go bat shit crazy in the middle of the garage. That shit happens in Rhode Island. So don't be an asshole.
4. A small purse
Leave your massive purse at home, ladies. Whip out your handy dandy cross body bags with the bare essentials because on top of bags of heavy presents, you won't want your clunky purse.
5. Know your plan

If you go to the mall without any idea what you are going to get for someone, you might as well pitch a cot and spend the night. Get in and get out, because you will start to go on a shopping spree since there are the irresistible holiday sales. At least I have a killer dress for my work's holiday party. I know, I'm terrible.
6. Lay low
When I'm last minute Christmas shopping, I take out my hipster wide-brim, floppy hat and lay low. With the amount of people crowded in the Providence Place Mall, it is guaranteed that you will run into someone you know. It always ends up being someone you totally didn't want to, like an old co-worker or your homecoming prom date. Keep the hat on and keep your head low. People will be too busy admiring your hipster hat that they forget to look at your face. #RhodeIslandproblems
7. Resist food court temptation

After standing in lines and dodging people who walk ridiculously slow, you're probably hungry. You're bound to walk by the food court and get temped with the smell of Johnny Rockets and the sound of a milkshake being made. DON'T DO IT. You'll wait even longer and pay much more than what it would be at a location outside of the mall. Yes, eating the delicious Route 66 burger and chili cheese fries will be easy going down, you will 100 percent regret it while sitting in traffic on your way home. Get a snack and hold off until you get home.

I never said anything about free samples, though. Do a quick food court round and keep it moving.

And most importantly...

8. Don't forget the real meaning of Christmas

The holiday season can bring out the worst in people, unfortunately, especially when last minute Christmas shopping is going on. Everyone is miserable because it's like a million degrees in the stores and you just dropped $300 on who knows what. Regardless, all of those Newbury Comics gag-gifts won't mean as much as getting together with family. I know, super sappy. I can't help it, IT'S CHRISTMAS.

As a side note, you can probably get all of your Christmas gifts for everyone on your list at Newbury Comics. At least I do. #truth

I'm soaking in the glorious 2015 Christmas joy. My internal holiday spark is igniting and I'm feeling the Christmas love in the air, and I can't get enough. Mariah Carey Holiday Pandora radio is playing constantly at our apartment (Jake isn't too thrilled about that) and I find myself getting lost in the glow of my Christmas tree and overpriced crystal angel candle holder with my pine tree scented candle. So much Christmas tree smell!

Admiring my tree, I get a glance of my childhood handmade ornament that brings me back to the good ol' days, when I used to make Christmas crafts and tried to glue my lips together with Elmer's because my older brother dared me. Oh, there's nothing like family.

With that said, get your shopping, wrapping, baking and whatever else done because the clock is running out.

I hope everyone has a very Merry Christmas!