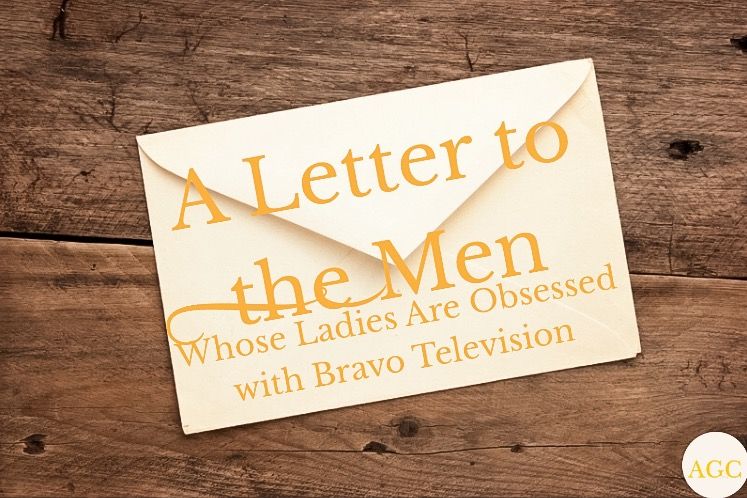 To Whom This May Concern:
If your lady is obsessed with anything Bravo, this letter is to you. So listen up.
Bravo is in the midst of some of the best concurrent reality television series and we are freaking out. There are only so many episodes that we can DVR until the anticipation kills us where we have to watch the nail biting new episode of Vanderpump Rules where James makes a fool of himself and we start to feel bad for Kristen, then we realize she is still bat shit crazy, with you home.
It's not JUST another episode. It is the one episode that we have been preparing ourselves for mentally all week. In some cases like last night, it was the start of the second season of Girlfriends' Guide to Divorce (which is arguably the best scripted Bravo series of all time) where it is close to impossible not to watch tonight. Because how else would be live tweet the episode's twist and turns? I mean, for the first episode, shit got cray. Yes, the petty drama is silly and probably not good for a developing girl to watch, rather a 20-something year old with a bottle of wine on the coffee table, but there are things in these bitches lives that encourages ourselves to be better, believe it or not.
For example, Abby McCarthy's writing career, I envy. Like I would do or write almost anything to get to the point where she is at during the show. Not only does she do and write what she loves regardless of what the "norm" is, she makes $$$ doing it. I mean, do you see her red bottoms? And house? And wardrobe? And success? While I'm watching her sleep with her supposed-to-be ex-husband Jake (coincidence, I know) when her potential job is riding on her divorce as her newest segment and she is able to still be a beloved writer, I think to myself, damn it, I want that. I want Abby McCarthy's career, minus her divorce of course. She can juggle it all, so can I.
Let's use an analogy, shall we?
It's the Patriots vs. Bronco's and its the fourth quarter right before Gronk injured his right knee. For argument sake, the NFL decided to make this game, the first in 10 games they lost, into two part episodes. You only know about Gronk's knee injury because there have been a million previews to the episode all week. Right before he hits the turf, the "next time on the NFL" sneak peak comes on and the you yelp in the thought that you have to wait one week, seven days, 168 hours until you see what happens next and if the Patriots will win and Gronks injury status. But then you realize, your lady hates football. She thinks the all-male sport is misogynistic and poses no benefit to those who religiously follow the game and won't shut up for the entire hour-long episode. But since we are so kind and understanding, we will use my iPad to catch up on reruns on the Bravo app.
We mustn't forget about the Real Housewives. With all of the petty negativity and consumerism on all of the different seasons of the show, Bravo manages to encourage women to be independent and strong willed, partly thanks to Andy Cohen. No matter how juicy the reunion is, which they always are, Cohen reinforces their positive female roles in society, which is so critical of women. Think about it. Half of the cat fights that take place are at these women's charity events, some of which these ladies founded. Although the episode's gossip takes away from the charity, at the end of the day, thousands of dollars are raised.
What I'm getting at is for you men, to take a look at the deeper message of girl power underneath all the petty housewife trifles. That means it is good for us to watch this stuff. Do you believe us now?
Yes, watching the endless amounts of drama that takes place is kind of gross, it is our guilty pleasure because its drama that we aren't involved in. For the only time ever, we have no consequences for talking about these women, or blogging about them, as if we are in their inner circle.
Bravo isn't for every women. In fact, there are a significant amount who refuse to watch reality television, and I feel bad for them because it is so damn entertaining. It makes an otherwise mundane weekday into something to look forward to. So do us a favor, stop giving us so much grief about watching our shows because if a show meant this much to you, we would let you watch them in peace. Return the favor.
With this, I end my letter, from the wise words of the Countess, the one and only LuAnn de Lesseps in all of her glory...
Sincerely,
One of Bravo's most loyal viewer