It's not even one week into November and I'm already thinking about Christmas. Christmas decor, that is.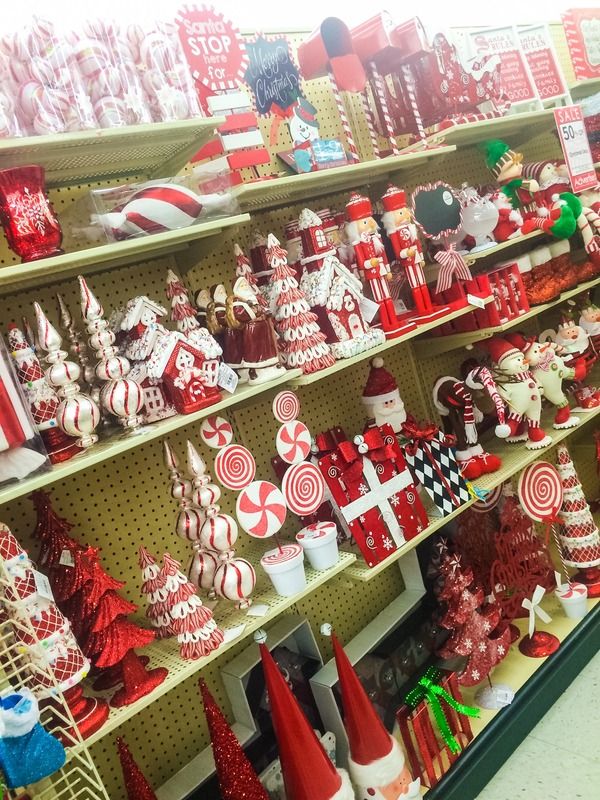 Once day light savings blessed me with one more hour of sleep and I flipped my calendar's page to November, I had the sudden urge to fill my apartment with glittery, nostalgic and basic as-eff decorations that tickled my fancy in anticipation of Christmas 2015. Each year that goes by, there is always the thought that, this year will be different. I'm going to upgrade my collection of holiday vomit to have a more cohesive, chic holiday vibe. The irony is that I end up picking out similar shit, just in a different color. Well, if it ain't broke...
With a Hobby Lobby conveniently located minutes from my work, I decided to take a trip to "see what they have." I was in no place to drop a benji, so I convinced myself I would just "look around." Nearly two hours later, all I purchased were glittery holiday balls, an oval bowl to put on my coffee table and a wooden letter A (for Anderson, duh) with a side of dizziness and headache.
*(Although I enjoy shopping at Hobby Lobby, I do not agree with their recently publicized religious, personal opinions)
As soon as you walk in, the clearance fall decor is sadly sitting on a shelf near the cash registers, wanting some attention by the grazers waiting in the long ass line that always takes at least 20 minutes. But with a focus on anything red and white, I powered through the temptation. You see that picture above? How can you NOT be attracted to this wonderful isle and naturally be driven to it? THERE ARE GIANT PEPPERMINT LOLLIPOPS for God's sake. Come on, Hobby Lobby, that's not fair.
But just like a kid in a candy store, I got easily distracted, however, with this glorious display of shiny metallic everything.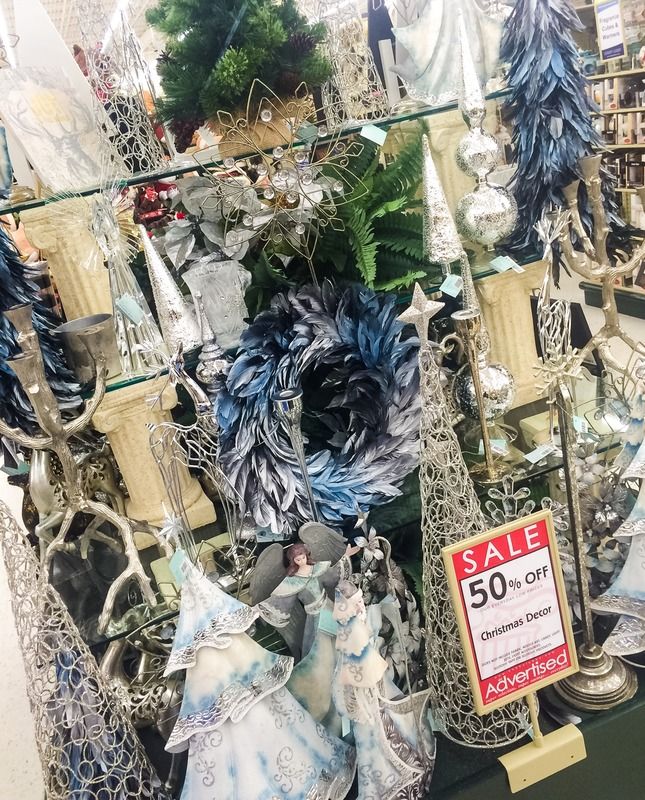 On top of it all, the best Christmas decorations (like these ones) were 50 percent off. It's Jesus' way of telling you it's okay to self indulge on decor. After all, it is in honor of his birthday.
I was seconds away from getting that feathered wreath because... it's amazing. I then saw the mock feathered Christmas tree to match, and then a second tree. Since this entire display was cohesive, I probably picked up every single item and thought, this would all look good on my side table in my living room. Snap out of it!
"Anita, it isn't even Thanksgiving and you are wasting your time looking at things you won't even buy," I thought. "But if I do, I'll be getting the pick of the litter for Christmas decor."
"Lets take a break from the Christmas stuff and take a fresh look at it all in a few minutes."
To clear my mind from Christmas overload, I took a stroll down the everyday isles. Even displays unrelated to the holidays are so damn tempting. I think those star-type-things that serve no purpose are kick ass. I almost bought two but since they weren't 50 percent off like its holiday counterparts, I became a cheap ass B and decided against it.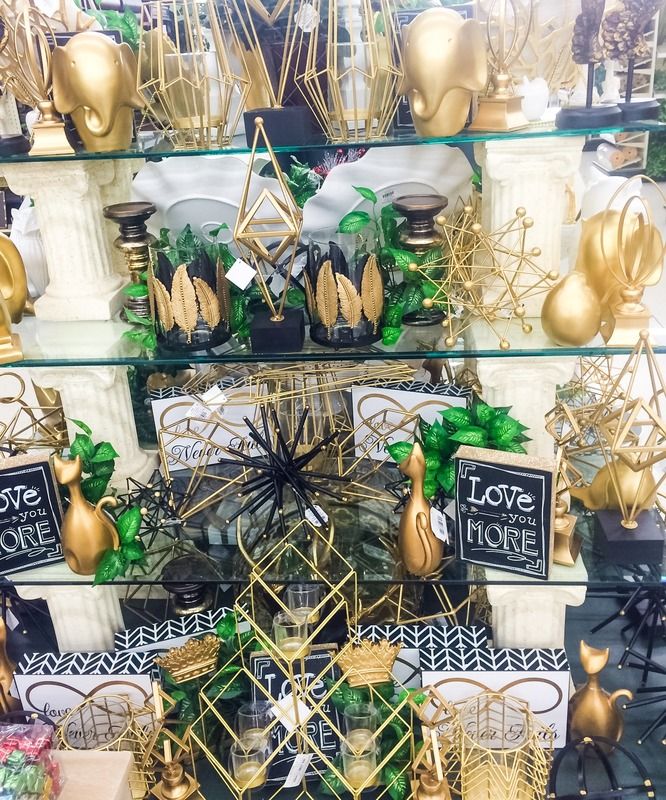 After circling the same three holiday isles and picking up the same three items, I finally committed, which is really damn difficult in a store that is just so damn tempting. With the frosted cranberry ball ornaments and burlap, pine cone ornaments to go with, I re-purposed the once tree-hanging decorations to a decorative centerpiece with a hint of the holidays.
Perfect.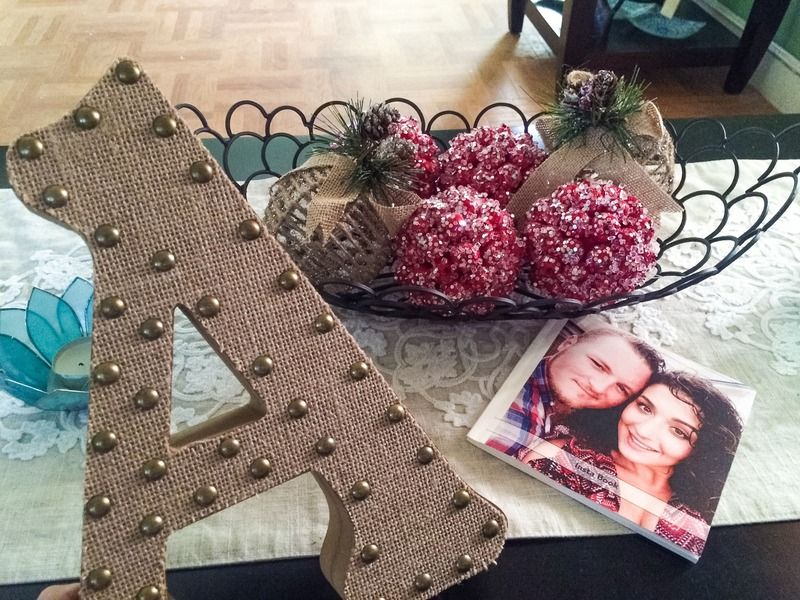 I was unbelievably able to only spend $38 at my recent trip to Hobby Lobby. Yes, I got some Christmas decorations and it's only November 4th, but I'm slowly easing my way to complete Christmas decor overload. Now I will have an excuse to go back. Think of Christmas decoration season as drugs for basic bitches. It's just too damn good.
TIP: Make sure that if you plan on going to Hobby Lobby for Christmas decorations, plan your trip ahead because it will be at least an hour and a half.
Although decorating for the holidays can seem just as exciting as the actual thing, let us take some advice from The Grinch, to keep our minds in perspective to what Christmas is all about.
"It came without ribbons. It came without tags. It came without packages, boxes, or bags."
The Grinch thought of something he hadn't before
"Maybe Christmas doesn't come from a store. Maybe Christmas (he thought,) means a little bit more."