Turning on my television after getting out of work early and having the 2015 American Music Awards just beginning was the last thing I expected, and one hell of a way to end off a great week. I don't remember the last time I watched the AMA's because lets be honest, the MTV Music Awards has a heightened popularity, but this year's AMA's made my future self always watch the AMA's because it rocked my world.
There were too many things that happened that got me all sorts of excited, so of course doing a blog post was the best way to expense my emotions before Jake kills me for talking about celebrities he doesn't give two shits for. In random order, here are the highlights and reasons why I loved this year's 2015 AMA's.
Jennifer Lopez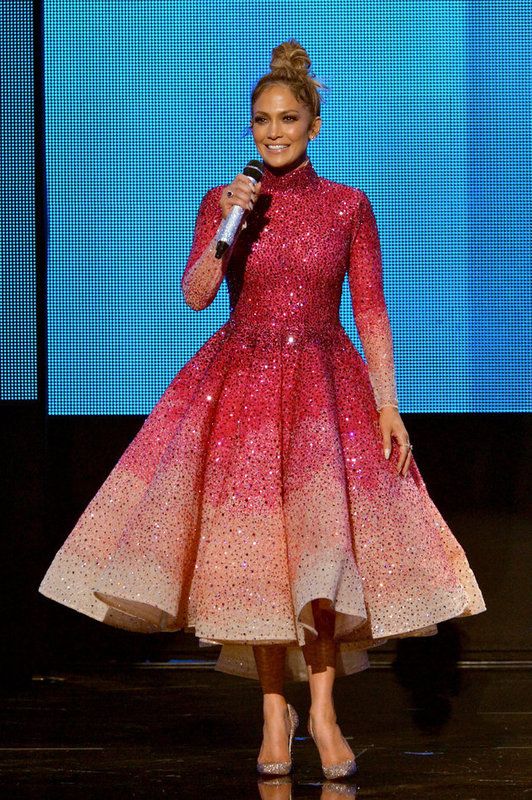 She would pick the best pink, sparkly dress ever made. I barked like a Chihuahua when she walked out because, LOOK AT IT! Who wouldn't love to wear this dress any chance they could. I know, me too. As far as her introduction into the three hour-long show, Jenny really took us back to the block when she spoke about her rise to fame, watching the award show as a child. Not only is she super nice, I sure hope my skin looks that good when I'm in my 40's. And for anyone who hates on JLo, take a look in the mirror.
Miss Piggy and Kermit's "Hello" Parody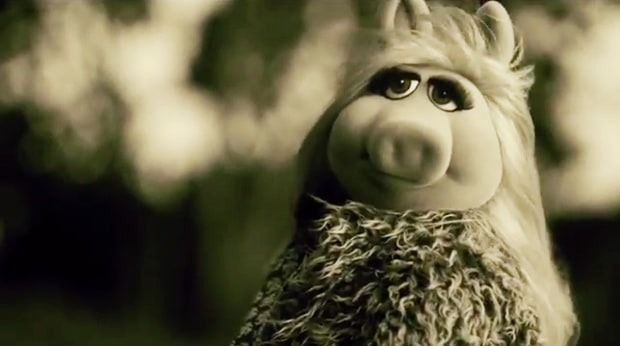 The trailer to The Muppets was short yet amazing and if you didn't pay attention you may have missed it. Do yourself a favor and w
atch it now
because HELLO it's the Muppets.
Miss Piggy was so on fleek in her video to Kermit singing Hello. In it, Queen P belt her heart out to ex-boyfriend Kermit, then managed to get a mouthful of leaves. This is a testament; don't play with Miss Piggy's heart because you will get hit like Kermit did, with a tea kettle and a keyboard.
Meghan Trainor and Charlie Puth's Makeout Sesh
Me, along with anyone else watching the AMA's had their jaws drop when Meghan and Charlie (we are on a first name basis because we are best friends) got all shorts of steamy after singing their Marvin Gaye tribute song, which I can't get enough of. It was so amazing I put two pictures in this post, of course one being a gif. so you could catch it in action. It is fitting that they gave us all sorts of PDA because after all, it is Marvin Gaye. This was pure genius. A total publicity stunt but they rocked it well. Well played, guys.
Ariana Grande's Performance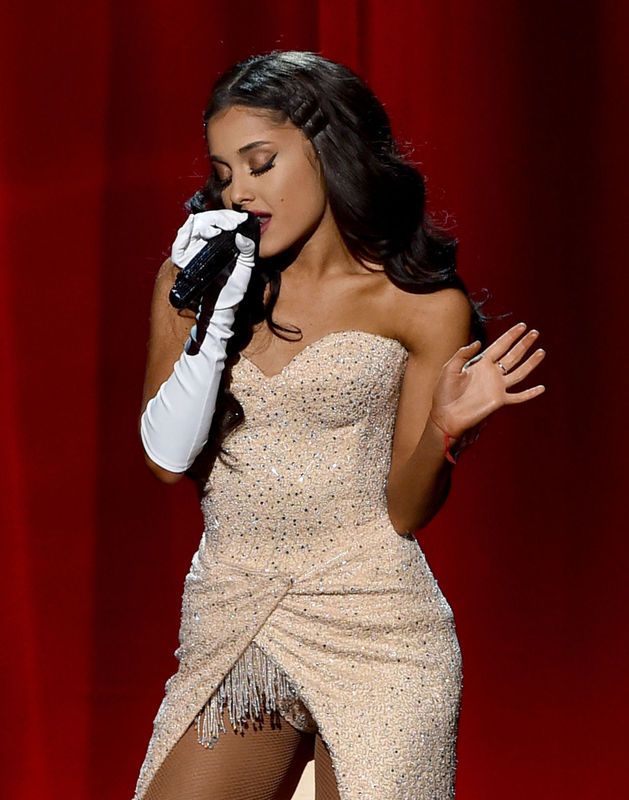 She can lick donuts all day because Ariana Grande can do no wrong, to me. Her voice is like an angel and amazes me every time. It is so effortless and better than most of the other singers who performed on the show. I found myself comparing her to others (as if we were besties) saying, "Ariana's was way better." This girl did something that no other artist did. She got her first single of her first three albums on the Top 10 of the Billboard 100. Get it girl.
Alanis Kicking Ass, 20 Years Strong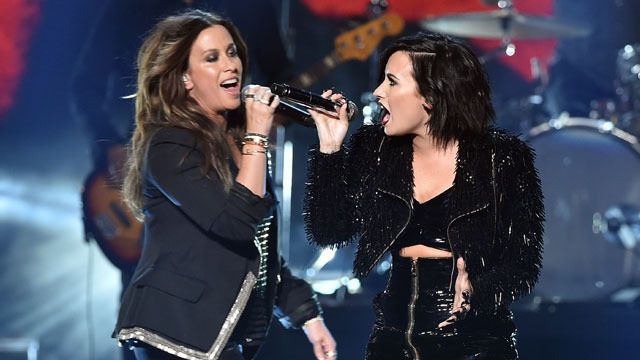 It is Alanis mother effing Morrisette. Either you are for her or your not, and I am all sorts of for her. When she and Demi Lovato sang "You Outta Know" she brought the house down, When I say she, I mean Alanis because lets face it, no one can sing Alanis songs besides her, sorry Demi. There is something about the way she hits those notes that no one else can replicate. But at least now all the Demi tween fans might learn a thing or two about Alanis. And to think that song was about Uncle Joey from Full House.
When Gwen Stefani sounded like a chicken
I've never been a fan of Gwen. So when she performed on the AMA's, I took a second to warm up some queso dip because I'd rather use my time more constructively. However, hearing Gwen sing a "personal original" clearly about her recent divorce reminded me of a clucking turkey. Not about it.
Sam Hunt's red bottoms
I'm not sure who Sam Hunt is but once I saw them red bottom shoes while he was walking onto the stage, it made me consider listening to country music. That was short lived.
Nick Jonas' best hit yet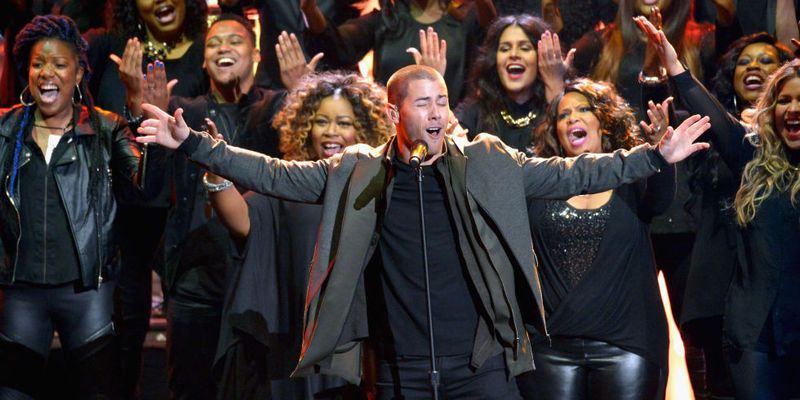 "Levels" is such an annoyingly catchy tune, but I love it. For me, Nick has been on the back burner but his performance last night brought him center stage in my book. I love me a good choir, so when Nick used a giant choir made up of two dozen Aretha Franklin's, he nailed it. I can't go without mentioning Nick going back to his Jonas Brothers roots and having his Phil Collins' moment by busting out a solo on the drums. Good for you, Nick. Plus, he dates a Rhode Islander, Miss Universe Olivia Culpo. Gotta represent Lil' Rhody!
And as embarrassing as this is, here is a picture of when I met the Jonas Brothers before they were uber famous, circa 2005? I'm so cool enough to have saved one of Nick's drumsticks that he threw off stage (at a dingy venue in Providence).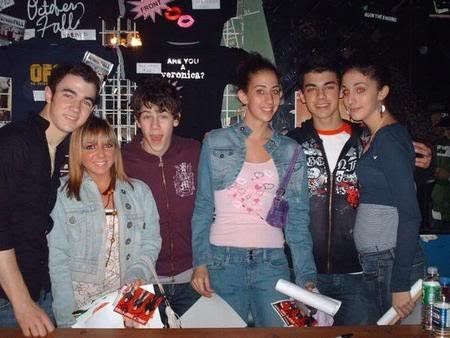 Penatonix Star Wars tribute
Anything a-capella I'm all for. So when Penatonix performed in the full costume getup in anticipation of the new Star Wars movie, I died. Once the orchestra came out, belting the Star Wars theme song, it gave me chills. It doesn't get any better than a live orchestra (coming from me, a band geek). And leave it to Harrison Ford to bring back all of the nostalgia that goes along with any soundtrack John Williams composed.
First of all, what the hell what Biebs wearing? It looked like he rolled out of bed. But then when he started dancing during the finale of the AMA's in the rain without managing to slip, it made sense why he wore an over-sized sweatshirt and trucker hat, right? And OF COURSE, he cried. It's Justin Bieber, that is his new thing, he cries. Clearly his microphone was off during his dance in the pouring rain, which was kind of a bummer. I have to say though, his recent album is really catchy and I can't get enough. #imabelieber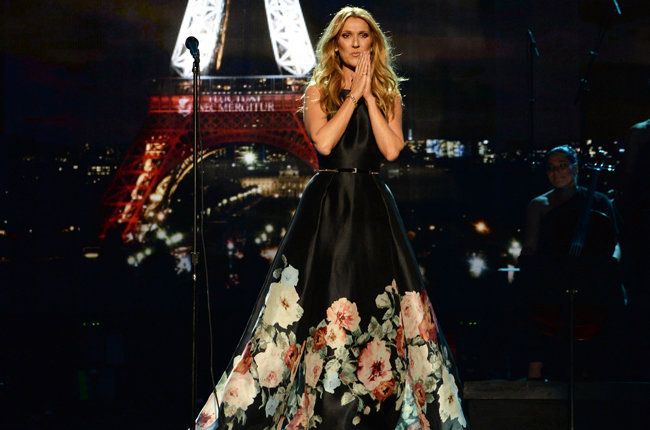 It only makes sense to have Celine Dion sing a song in memory of the Paris victims. Anytime there needs to be a ballad sung in a foreign language, leave it to Celine. There wasn't a dry eye in the house. #prayforparis.
Coincidentally, this is my second consecutive blog post about musical artists, so that means I'm a real deal music critic right? No Anita, you are just writing about pop culture, get a grip.
As a side note, please excuse the formatting on this post because Blogger is clearing having a Monday morning moment and not aligning with what I put. Dammit.
So now that I just ranted about this year's American Music Awards, what were some of your favorite moments?