I've been in the wedding planning mood this week since I've been talking about my proposal with a bunch of friends over a recent get together. Well, that's a lie, since I've been talking about my wedding plans since the day I got engaged. As well as having a wedding this coming weekend, I am super anxious to get a venue booked so I can start booking everything else. The three things I have figured out already, which are the most important, DUH, are the color scheme, shoes and wedding hashtag. After much consideration, we have come up with #anderoni2017. I LOVE. If there is one thing I love about hashtags (which I used to hate before I became a blogger) is being able to just click and see everything attached to it. And what better way to see all of your friend's drunk selfies and photo bombs than a wedding hashtag?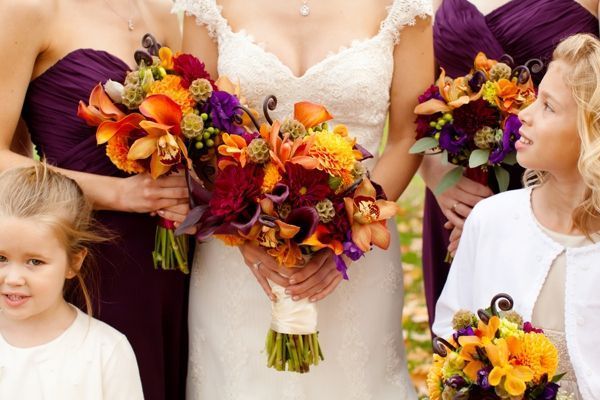 The following pictures (all from Pinterest) are what I have come up with over the five-something weeks I have been engaged, and I feel compelled to tell everything to who is willing to read my blog post, hopefully there are people reading. Someone? Anyone? Screw it, I'm going to continue my wedding planning rant.
October is our favorite month and our anniversary month, plus Jake's birthday and the commencement of fall activities. Who doesn't love fall activities? I'm obsessed. Just wait until my Instagram blows up with new boots, scarves, pumpkins and apple-picking oh-so-staged photos. Anyway, October was a no brainer, however, I'm not sure I want to include pumpkins in my decor, maybe that is toooo much fall? Well, is there such thing as too much fall? The weather is crisp. The smell of fall is in the air. Sam Octoberfest is on tap. Pumpkin spice lattes are brewing at Starbucks. I mean, COME ON. I LIVE for a pumpkin spice latte. #imsuchabasicbitch.
To pay homage to my best friend, Tayla, who passed away, I thought a dark plum and rustic orange color scheme would be perfect since they are her favorite colors. It captures fall and will be a part of her with me during my special day. I'm sure she would greatly appreciate it, as I appreciate her friendship dearly. Plus, I love a pop of color in every aspect of my life. The colors for my wedding have to be perfect. I don't want a boojie-ass purple. It needs to be dark enough so the rustic orange (thank Pinterest for the corny name) pops against the plum. Speaking of pop of color, I've found my wedding shoes. Who am I kidding, according to my Instagram when I posted the picture originally, I picked out my bridal pumps 43 weeks ago. They are very Carrie Bradshaw and I am so pumped for them. <<< see what I did there?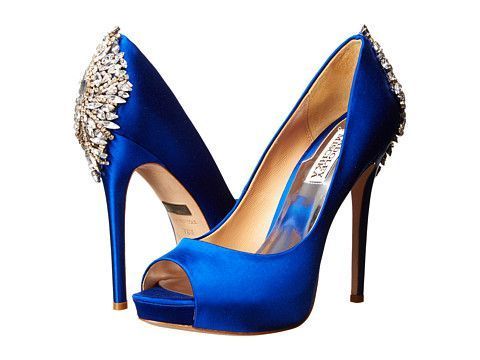 It gets my "something blue" covered and it is totally me in a pair of $250 shoes. Everything I do has a pop of color in it, just take a look at my outfits everyday. I am willing to pay the money for these beauties. Here lies my dilemma, they are 4 3/4 inches tall and I am almost 5'10 flat foot. My friend and soon to be bridesmaid informed me that a cobbler can shave down the heel which I am praying for because I can't be taller than my 6'1 fiancé. If there is a will, there is a way because I am sure as hell not settling on any other shoe. Do you see the embellishment?! I hope someone else is just as excited as me. Thank you Badgley Mischka for designing the shoes of my dreams!
And my wedding dress, you ask? I won't post any pictures of my ideas and spoil it but if you are oh-so inclined, peep my
"Anderson Wedding Ideas" Pinterest
board. I'm thinking either a strapless, busy bottom mermaid style or slim fitted, backless with sleeves dress. And lace, lots of lace. Maybe some more embellishments, like my shoes don't have enough. Although I want to start wedding dress shopping like yesterday, I should at least wait until the near one-year to go mark. Let's see how long that lasts.
I think these socks are so adorbs. I'm not sure how Jake feels about them but I think it would be cute. We'll see. As far as venues go, shit gets expensive. We are thinking a very earthy, rustic vibe— maybe at a large barn or garden for the venue because I love the fall leaves as a backdrop for wedding pictures. Who doesn't? Am I right?
Let me break down the cost of some necessities for you brides, future brides, or girlfriends who are itching to get married.
Photographer: on average $2,500-$3,000
DJ: $2,000
Flowers: probably $1,500
Food: for 200 guests, think around $10,000. You read that right. (And that's cheap)
Decor: who the hell knows. But thanks to Pinterest, I plan on doing a ton of DIY projects because I still have no clue where this money is going to come from to pay for #anderoni2017. It will look like Pinterst threw up all over my wedding, and I can't wait.
These are the costs that I least expected. But nonetheless, I suppose it is worth it, at least the photographer for sure. Coming soon will be an Average Girl's Guide to planning a wedding because I wish I have one. Overwhelming is an understatement. Other than creeping on bloggers planning weddings (
thedailytay
, who I love) and being super intrusive and bothering newlyweds on how much they paid for everything, I wouldn't even know where to start. And I still don't.
On a lighter note (I know I know, poor me and my wedding planning problems) here is a throwback to Jake and I at our date night post-engagement in Itri. Viva l'Italia !
As far as my blog goes, I am attempting to be more consistent with my posts so I will be switching to being a biweekly blogger, in hopes of attracting more loyal readers. So look forward to that, AGC fans!